WANT TO RIDE UP THE MANAYUNK WALL?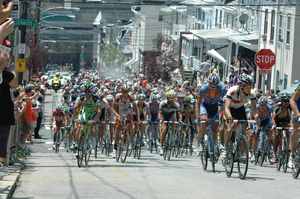 Sunday, June 7, 2009, 7:15 a.m. to 8:45 a.m.

Course is Cleared Before the Professionals Compete at 9 a.m.

Ever wondered what it's like to ride up the Manayunk Wall or rip down Kelly Drive on your bike?  Here's your chance to feel the rush of the TD Bank Philadelphia International Cycling Championship's historic race course!  If you're age 12 or older, you can challenge yourself on the course as part of the Philly Fun Ride… but you have to get up early!  The course opens at 7:15 a.m. and closes at 8:45 a.m. just before the pro riders head to the start line at 9 a.m. on race day morning -- Sunday, June 7, 2009.

Participants in the Philly Fun Ride will have access to the same race course that the international professionals compete on – including Kelly Drive, the Manayunk Wall and Lemon Hill.  The course will be closed to traffic during the ride, which means you set your own pace.  Go as far and as fast as your legs can take you.

Register Today & Become a Race VIP

Registration for the Philly Fun Ride can be done in advance online through www.BikeReg.com.  Look for the Philly Fun Ride banner, or search for Philly Fun Ride, or click here to register:  http://www.bikereg.com/events/register.asp?eventid=8665.  

 

The fee is $40 per rider.  Ages 12 and up and all ability levels are invited.  Helmets are mandatory. All registrants will receive snacks, an official Embrace the Race t-shirt and the chance of a lifetime to experience the course from a pro cyclist's point of view.

 

Don't let your race day experience end there, though.  Once you've conquered the course yourself, enjoy the professional competition from the comfort and shade of the Champion's Row VIP area at the start/finish line.  Champion's Row features course-side, catered tents, a rider appearance, VIP shuttle service to and from Manayunk, free parking and the chance to win a ride in the official MINI Cooper pace car.  Online Philly Fun Ride entrants may purchase discounted VIP tickets and official merchandise for the 25th Philadelphia International Cycling Championship right at www.BikeReg.com.

For day-of registration for the Philly Fun Ride, go to the main staging area at Kelly Drive and Sedgely just below the Art Museum, on Sunday, June 7 beginning at 6 a.m.  The day-of registration fee is $50. 

The Philly Fun Ride is made possible by the City of Philadelphia.  The event is co-presented by Pro Cycling Tour (the organizers of the TD Bank Philadelphia International Cycling Championship) and the Pennsylvania Cycling Association (PCA) that promotes recreational and competitive cycling throughout the Greater Philadelphia area and the Commonwealth of Pennsylvania .  For complete information on the 2009 TD Bank Philadelphia International Cycling Championship, go to www.procyclingtour.com.