INDOOR CYCLING TRACK BEING PLANNED FOR CHESTER COUNTY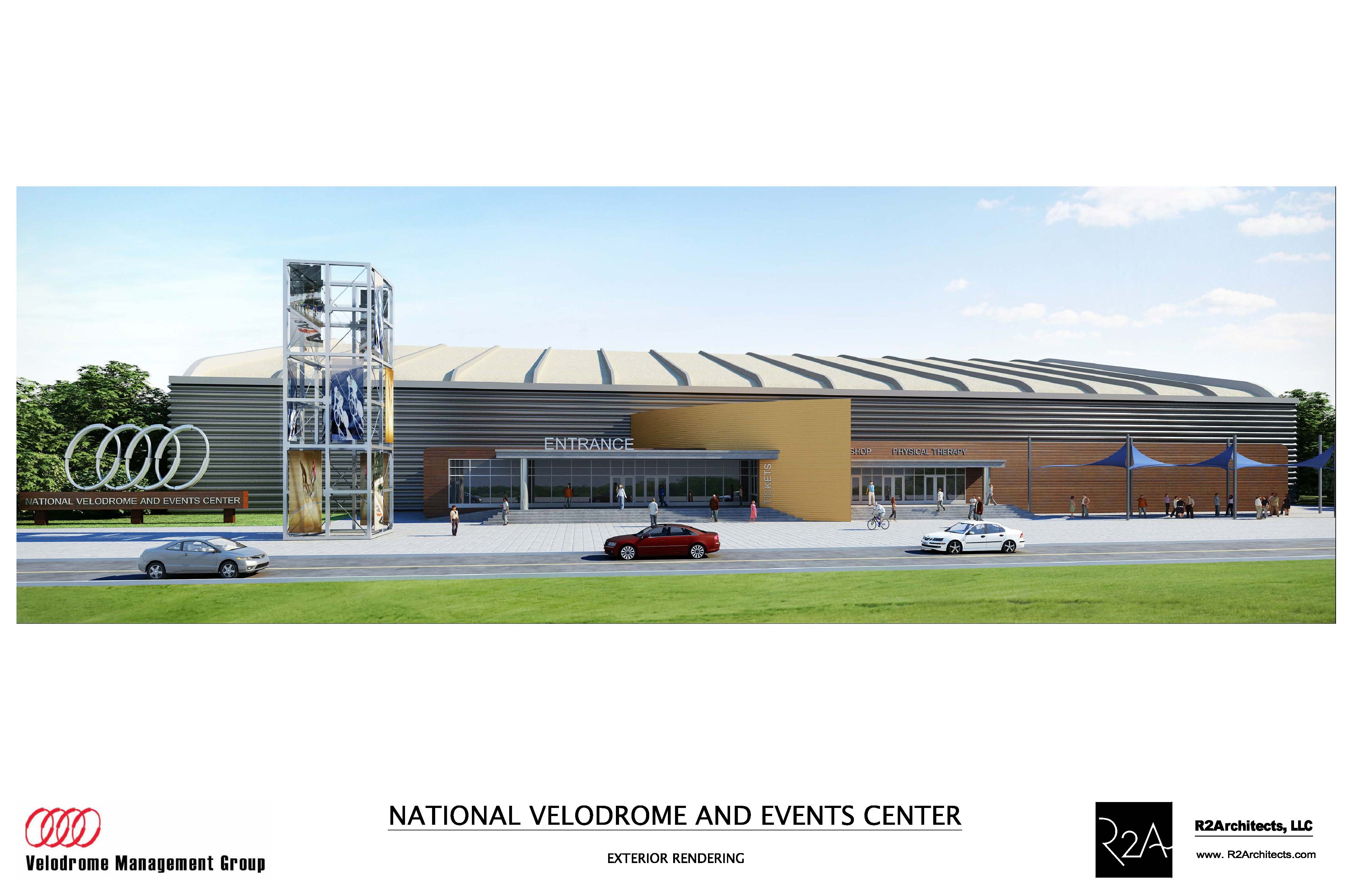 EXTON, PA February 2, 2009:  The Chester County Economic Development Council and Velodrome Management Group, LLC (VMG) are in discussions about locating VMG's National Velodrome and EventsCenter in ChesterCounty. The unique facility will draw cycling fans and participants from up and down the Atlantic Seaboard, create hundreds of full and part time jobs and become a showcase for cycling, an Olympic sport that has grown dramatically in Chester County and around the nation.
The 2,500 seat arena and velodrome, a steeply banked wooden track, will be capable of hosting high level national and international competition and will provide a much needed year round facility for training and development of young cyclists. Although the velodrome and comprehensive cycling program will anchor the facility, the building is designed for multi-use including added seating capacity for concerts, other sporting events and community activities.
According to Chester County Economic Development Council president and CEO, Gary W. Smith, "The CCEDC supports both public and private initiatives that create jobs, generate tax ratables, contribute to recreation and tourism and enhance economic development.  As the only indoor velodrome on the East Coast, the facility is certain to furnish ChesterCounty, the Philadelphia area and the Commonwealth with a unique and visionary asset worthy of national as well as international recognition." 
The only other indoor velodrome in the United States opened in 2004 in Los Angeles and has become a site for national and international cycling events, championships and youth development programs.  There are 22 outdoor velodromes in the nation, the closest and most successful being the ValleyPreferredCyclingCenter in Trexlertown, PA, a magnet for cyclists that has been in summer-only operation since 1976.
"We believe that indoor cycling has a huge future in the United States it's fast, colorful, exciting and is undergoing a surge in popularity around the world.  Plus with over a dozen track cycling events for men and women in international and Olympic competition, there is a tremendous opportunity to develop American talent at this facility," said VMG's director, David Chauner, a two-time Olympic cyclist and member of the U.S. Bicycling Hall of Fame. Chauner is also president of Pro Cycling Tour and a founder of the TD Bank Philadelphia International Cycling Championship, the world-class bike race that has become a major annual event and stimulus for area cycling since 1985.
Chauner says that, in addition to high-level competition, introducing area youth to cycling in all its disciplines will be a key objective of velodrome usage and points to the successful Air Products Development Program he and a former partner created at the outdoor velodrome in Trexlertown in the LehighValley. Since its inception in 1977, the program has introduced cycling to 14,000 youngsters and, over the years, has produced 16 Olympic team members including 2000 Olympic Gold Medallist, Marty Nothstein.
Velodrome Management Group, LLC has been researching sites in the Philadelphia area for several years and recently decided on ChesterCounty due to its proximity to Philadelphia and central location in SE Pennsylvania, home to thousands of cyclists and cycling events. CCEDC is helping them find a ten to fifteen acre site that, ideally, is close to rail lines and major highways and in a community that has nearby hotels, restaurants and businesses to service visitors. An added plus will be close proximity to other recreation and entertainment facilities as well as a location that could be easily reached by bike path.
Built at a cost of approximately $15 million, developers expect the velodrome to create nearly 100 new full and part time jobs and that $25 to $35 million will be pumped into the local economy by some 50,000 out of town visitors each year.  IMC Construction of Malvern, R2 Architects of Vorhees, NJ and V-Worldwide of Detroit have been selected to assist VMG with the project.


For further information, email:   pr@procyclingtour.com
###